Email Monster
Fight email clutter.
Stay anonymous.
Stop spam.
Mask your email address online with unlimited forwarding addresses. Control inbox noise with scheduled future emails.
What is this monstrosity?
(How does email monster work)

Sign up with your real email and choose your secret username.
So if your real email is clark.kent@gmail.com, and you've used superman as your username:
Any email sent to anything@superman.eml.monster will be forwarded to clark.kent@gmail.com without ever revealing your real address.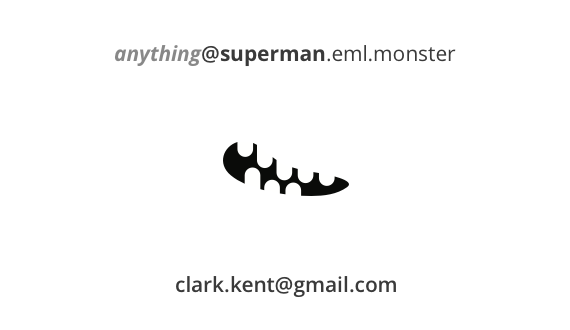 Use your new email address domain, with any alias you can think of, no setup needed.
Alias addresses are created when their first email arrives, so no need to setup aliases in advance.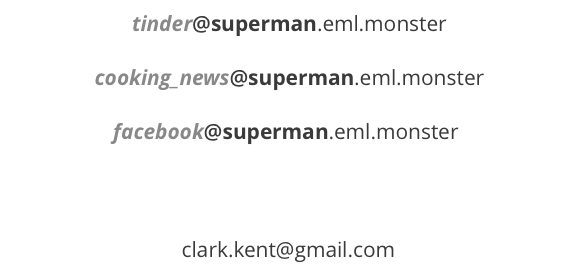 Turn off any alias or sender or both.
At any time you can login to Email Monster and toggle off senders or aliases to never receive emails from them again.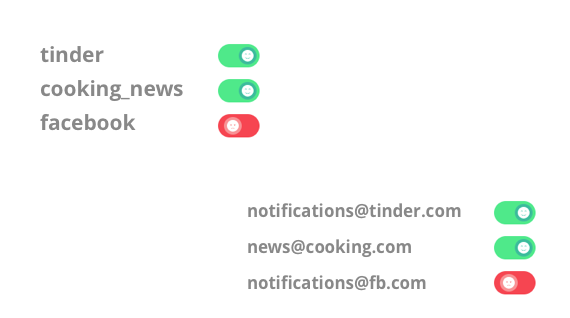 Want all of your newsletters just once a week? Turn any sender or alias into a digest.
This means any emails from senders or to aliases that you choose, will not be forwarded immediately. One digest email will arrive on a weekly or monthly cycle of your choosing, with all emails sent during that period.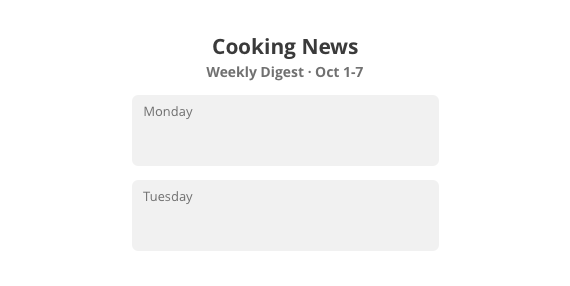 Features
Why should I have a monster guard my email address?
Stop spam in your inbox with one click
Find out if your email was shared or sold
Convert any of your aliases or senders into a weekly/monthly digest
Create unlimited aliases, as fast as you can type them. No setup needed.
Keep your real email address a secret, forever!
Block emails by senders or by mailbox aliases
Monster Lovin'
Testimonials
Here are some of our customers, wanting to let other people know how much they love the monster
Create a free account
I can just turn off emails, for ever!

Ari Lindert

- Head of Marketing
Best thing about the monster is the newsletter digests. I like to get all my daily newsletter once a week, with my morning coffee.

Ray Nolan

- Product Manager
I really like that I can see exactly who sold my email address, you'd be surprised!

Eddie Griffith

- Fitness Studio Owner
Pricing
Simple pricing, cheaper than a cup of monster coffee.
The basic free plan with up to 40 monthly received emails and 1 digest.
Unlimited email aliases

No ads

Up to 40 emails/month
Up to 1 digest/month
Signup for our premium plan to access all our Premium Features.
Unlimited email aliases

No ads

Unlimited emails

Unlimited digests
Signup for our premium plan on a yearly basis to get 50% off all our Premium Features.
Unlimited email aliases

No ads

Unlimited emails

Unlimited digests
Guess what!
It's the only temporary email service you'll ever need
Email Monster is a service which lets you create an unlimited number of temporary/throwaway email addresses, all of which automatically forward emails to your real email address. Whether it's on Gmail, AOL all providers are supported as we act more like a firewall sitting between your real email account and the world. Additionally, we allow you to turn each of these temporary email adresss (Aliases) on or off at any moment.
Once you created your account and chosen your username, you can use any email alias with it, when you need to use an email address online. For example, if your username is dan and you are registering for account on Yelp.com, then you can invent any alias to use, like yelp@dan.eml.monster to register. All emails sent to yelp@dan.eml.monster will be forwarded to your real email account (the one you've used to create your account on email monster). Yelp or any other service you use with your eml.monster aliases will never have access to your real email address.
Notice Warning Success Something went wrong